Immigrants from Asia and Pacific Islands are a diverse population of more than 130 ethnic groups from a geographic area that spans 16 million square miles. Their dreams and talents are as diverse as they are and, despite the challenges and discrimination they have faced, they have made extraordinary contributions to the United States. The Immigrant Learning Center has compiled just 13 of their stories, including those of an Olympic athlete, an HIV/AIDS activist, a U.S. senator and an astronaut.
Lue Gim Gong, Horticulturalist, 1860 – 1925
The $6.7 billion Florida citrus industry owes a lot to Lue Gim Gong's mother. She taught her son pollination techniques while raising him in China. As an adult in the United States, he would use those techniques to breed so many valuable new varieties of fruits that he gained the nickname the "Citrus Wizard."  
American farmers almost missed the opportunity to benefit from Gong's expertise. The Chinese Exclusion Act barred him from entering the United States, but he managed to get around it with forged documents and the support of a family farm in Florida. There he focused on cultivating plants that were resistant to early Florida frosts that could wipe out a farmer's livelihood. He developed tomatoes with higher yields and grapefruits that dropped at optimal times, but he is best known for developing an early-ripening variety of sweet orange that bears his name. The Lue Gim Gong variety of the Valencia orange is still popular more than a century later and has saved the industry millions of dollars.  
Gong's citrus success did not enrich him personally. His scrupulous honesty, unwillingness to self-promote and habit of handpicking all his oranges to ensure quality didn't translate to business success. Nonetheless, his impact on the agricultural industry won him widespread recognition, including the first Silver Wilder Medal to be awarded by the American Pomological Society for a citrus fruit. 
Duke Kahanamoku, Olympic Athlete, 1890 – 1968
Duke Kahanamoku was a five-time Olympic medal winner in swimming, but his greatest legacy was popularizing the sport of surfing. Kahanamoku became an American in an untraditional manner. He was born in Hawaii in 1890 and became a United States citizen when the island chain was annexed in 1900.   
Kahanamoku grew up surfing, a sport that was popular among indigenous Hawaiians but was not well-known in the continental United States. He entered the 1912 Olympics as a swimmer, winning a gold medal in the 100-meter freestyle and a silver in the 4×200-meter freestyle relay. At the 1920 Olympics he took gold in both events, and in 1924 he took silver in the 100-meter freestyle.
Between accumulating Olympic medals, Kahanamoku traveled the world to perform in swimming exhibitions, including fundraisers to contribute to the war effort during WWI. He mixed in surfing exhibits, frequently introducing the sport to his audience for the first time. Kahanamoku often made his own surfboards by hand. When he used his surfboard to save eight fishermen after their boat capsized, news of the dramatic rescue popularized not only the sport but the use of surfboards by lifeguards. He moved to the mainland United States to act in several Hollywood movies before retiring to Hawaii, where a statue was erected in his honor.
Bhagat Sing Thind, Soldier / Activist / Spiritual Leader, 1892 – 1967
Bhagat Sing Thind has the possibly unique distinction of becoming a United States citizen three times. After coming to the U.S. from India, Thind applied to become a naturalized U.S. citizen. The law held that only "white" and "African or African-descended" people could become citizens but hadn't yet settled the question of whether Indian-born people were "white." His first citizenship, granted in 1918 while he was serving in the U.S. Army, was revoked after just four days. When Thind tried again, the Supreme Court ultimately ruled that Indian Americans, including Thind, weren't white and must be stripped of their citizenship. It wasn't until 1935 when Thind reapplied under a law that offered citizenship to all WWI veterans that he received his citizenship for the third and final time.
Thind made remarkable accomplishments outside of his ongoing battle for citizenship. As a practicing Sikh, he was the first turbaned officer in the United States Army. He advocated for Indian independence from Britain, which was weighed against him in his fights for citizenship, and served with distinction in WWI, which was weighed in his favor. After his first two unsuccessful attempts at naturalization, he remained in the U.S. and earned a PhD in theology and English literature. Thind went on to become a spiritual leader and lecturer on metaphysics, and his writing was published in two volumes posthumously.
Mabel Ping-Hua Lee, Suffragist, 1896 – 1966
Dr. Mabel Ping-Hua Lee was a committed champion of women's rights, particularly the right to vote. When Lee was a child, her family came to the United States from China to perform missionary work. By the time she was just 16 years old, Lee was involved in the New York City suffragist campaign to give women the vote. She helped lead a parade on horseback through the streets of Greenwich Village in 1912 and gave speeches at both women's and Chinese groups while she obtained her bachelor's and master's degrees at Barnard College. In her most famous speech, "The Submerged Half," she described women as a suppressed pool of talent and drive that neither China nor the United States could succeed without.  
Lee was an outspoken leader despite knowing that her status as a Chinese immigrant would prevent her from voting even if American women won the right to vote. Women won the right to vote in 1917 in New York and in 1920 across the country, but the Chinese Exclusion Act prevented women from China from voting until it was repealed in 1943. It is unknown if Lee ever gained her citizenship or was able to vote. 
Lee became the first Chinese woman to earn a doctorate in economics in the United States when she earned her PhD from Columbia University in 1921. Lee went on to create the Chinese Christian Center, a community center that offered English lessons, a health clinic and a kindergarten. The center is still in operation today. In a 2018 ceremony, United States Postal Service renamed Manhattan's Chinatown Post Office the Mabel Lee Memorial Post Office in recognition of all she achieved.
Philip Vera Cruz, Labor Activist, 1904 – 1994
Philip Vera Cruz worked shoulder to shoulder with Dolores Huerta and Cesar Chavez to shape the farmworker labor movement that fought for and won better treatment for a predominantly immigrant workforce. As a young immigrant from the Philippines, he worked long shifts in the California fields, sometimes nine to 10 hours a day in 110-degree heat. This inspired him to fight for more labor rights and better wages. Filipino Americans were sometimes overlooked in the labor struggle, but Cruz worked hard to ensure that they maintained a seat at the table.
He was an early leader of the Agricultural Workers Organizing Committee, which organized a strike in 1965 when grape growers in Delano, California, refused to pay fair wages to their workers, who were primarily Filipino. The National Farm Workers of America, who were primarily Mexican immigrants, joined the strike. Cruz was key to the organizations' merger to form the United Farm Workers (UFW), creating  unprecedented solidarity between Filipino and Mexican farmworkers. To support the strike, Cruz traveled across the United States, calling for boycotts of nonunion grapes in churches, schools and community centers. The Delano grape strike was a landmark success, attracting international attention and leading to union contracts and better pay for more than 10,000 workers. 
In his new position as the vice-president of the United Farm Workers, Cruz fought hard for the inclusion of undocumented farmworkers. Cruz went on to oversee Agbayani Village, a retirement community for farmworkers who retired without savings. He was relentless in his activism, even marching at 87 years old to protest the acquittal of the police officers accused of beating Rodney King.
Katherine Sui Fun Cheung, Aviator, 1904 – 2003 
Katherine Sui Fun Cheung was the first Chinese woman to be granted a pilot's license in the United States. She initially came to the U.S. intending to pursue a career in music, but she quickly fell in love with aviation. She began taking flying lessons at 28 years old. After just 12 hours of practice, she executed a perfect landing. 
It was the start of a groundbreaking aviation career. Cheung soon obtained her pilot's license, joining the one percent of license holders who were female at the time. She began learning tricks, including death-defying barrel rolls, spiral dives, acrobatic loops and even flying upside down. Cheung wowed crowds at county fairs and airshows and competed in long-distance races. She was invited to join Amelia Earhart's "Ninety-Nines," a group of elite female aviators. Becoming a U.S. citizen enabled her to obtain a commercial pilot license. 
Cheung focused on performing in cities with large Chinese populations, and the Chinese community returned her loyalty. When she wanted to enter a seven-day cross-country race, a group of Chinese Americans raised $2,000 to purchase a plane up to the task. They raised money for another plane after Japan invaded China and Cheung wanted to open a flight school in China to train pilots for the war effort. Tragedy struck when her cousin crashed the new plane while testing it and died, and Cheung ultimately did not return to China for many years. Her groundbreaking career has been celebrated in many ways, including induction into the Aviation Hall of Fame and the International Women in Aviation Pioneer Hall of Fame, and a bronze plaque on the Flight Path Walk of Fame. 
I. M. Pei, Architect, 1917 – 2019
I. M. Pei, born Ieoh Ming Pei in China, is one of the most recognized architects in the world. He migrated to the United States through Angel Island in 1935. He came to study, but he was motivated by Hollywood depictions of American life. Fortunately, student visas were among the very few exceptions to the Chinese Exclusion Act at that time. Just as today, immigration officials were concerned that foreigners could become a "public charge," so Pei's visa expressly stated, "full [financial] support is to be provided by applicant's father, Tsuyee Pei, manager of the Bank of China, who is very well fixed financially." 
During World War II, he decided to put off launching his career as an architect to help the National Defense Research Committee design bombs that would be effective against Japanese homes constructed from wood and paper. This service did not protect him from discrimination. While traveling, Pei was sometimes turned away from lodgings by people suspecting he was Japanese.
After the war, Pei embarked on a series of major projects that won him significant acclaim. He was known for his versatility, working on both commercial skyscrapers and famous art museums. Among his most famous achievements are the renovation of the Louvre in Paris, including the construction of the iconic glass and metal pyramid, Mesa Laboratory in Boulder, Colorado, and the Kennedy Presidential Library in Boston. Pei continued to consult and work on projects into his nineties, including starting a scholarship fund for other Chinese international architecture students to follow in his footsteps.
Haing
 S. 
Ngor
, Actor / Activist, 1940 – 1996
Haing S. Ngor is the only man of Asian descent to win the Academy Award for Best Supporting Actor, but that may be less impressive than what he did in Cambodia before immigrating. During the Cambodian Genocide, Ngor had to hide his background as a gynecologist while imprisoned in Khmer Rouge labor camps. He survived, escaped to Vietnam and came to the United States as a refugee.
While living in Los Angeles, he was scouted for the role of Dith Pran in the film The Killing Fields. The fictional character Pran mirrored Ngor's own horrific experiences under the Khmer Rouge and Ngor's portrayal won him his Academy Award. He was determined to use the film to raise awareness of the horrors of the genocide, saying afterward, "I wanted to show the world how deep starvation is in Cambodia, how many people die under communist regime. My heart is satisfied. I have done something perfect." 
Ngor also wrote a memoir of his experiences during the war, Surviving the Killing Fields: The Cambodian Odyssey of Haing S. Ngor, to spread his story further. He continued to act in television shows and films, often in stories of war set in East Asia. Ironically, he survived the Khmer Rouge but not Los Angeles gangs. Ngor's life was tragically cut short when he was killed in a robbery. His family carried on his legacy of human rights activism and work on behalf of the Cambodian community through The Dr. Haing S. Ngor Foundation.
Mazie Hirono, Senator
, 1947 –
Mazie Hirono is a woman of many firsts: first woman elected to the U.S. Senate from Hawaii, first Asian American woman in the Senate, first Japanese-born senator and first Buddhist to serve in Congress. Before she could achieve all this, Hirono had to overcome many obstacles, the first being the split up of her family at age seven. Escaping an abusive husband, her mother brought Mazie and one son to Hawaii in the steerage of a battleship. The younger son had to stay behind with grandparents because he was too young for school, and there was no money for childcare in their new home. In many ways, this painful experience shaped much of Hirono's life. In particular, it gave her perspective and motivation to speak out against family separation policies. In an interview, Hirono said, "I always tell my mom there is nothing I can do—hard as it is to be in politics . . . harder than what she did." 
In 1959, when Hawaii became a state, Hirono became a U.S. citizen. Her interest in politics started as a psychology student at the University of Hawaii protesting the Vietnam War. She threw herself into working on political campaigns. After earning a law degree at Georgetown University, one of the state legislators she had campaigned for tapped her as his replacement. She served more than a decade in the Hawaii State House and then as Lieutenant Governor. She entered the national stage in 2006 by winning a seat in the U.S. House of Representatives and in 2012 by becoming a U.S. Senator. In 2017, she was diagnosed with stage four kidney cancer, but that did not slow her down. In fact, it fueled her fight for affordable health care. She is also known for strengthening consumer protections, public education, affordable housing and digital literacy. In 2021, she shared her story in the book, Heart of Fire: An Immigrant Daughter's Story. 
Yo-Yo Ma
, Cellist, 1955 –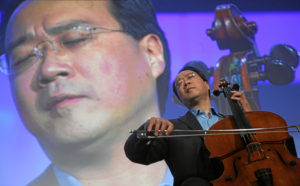 Yo-Yo Ma may be the best-known classical musician in the world. Ma began playing the cello as a toddler and was performing for U.S. presidents by the time he was seven years old. He was born in France to parents who had immigrated from China. Ma came to the United States as a teen to advance his schooling and career. He has performed for nine United States presidents, most recently at President Biden's inauguration, as well as the fictional President Bartlet in an episode of The West Wing. Ma is known for his versatility, performing American bluegrass, traditional Chinese music and Argentinian tangos alongside classical orchestra music. This versatility has enabled him to produce almost 100 albums, including 18 Grammy winners. 
When interviewed about how immigration affects people's work, Ma said, "That immigrant imagination allows them to see further into possibilities that don't really exist yet." When tensions rose along the U.S.-Mexico border, he performed a free concert on the border to promote a message of unity. While live performances were mostly shut down by the COVID-19 pandemic, he hosted a series of pop-up performances for essential workers. He also treated the health care workers at his vaccine appointment to an impromptu performance. Among his many accolades, Ma has received the Presidential Medal of Honor from President Obama, the National Medal of Arts from the U.S. Congress and the title "Sexiest Classical Musician" from People magazine.
Kalpana Chawla
, Astronaut, 
1962 – 2003
Kalpana Chawla was fascinated with airplanes and flight long before she became an astronaut. As a child in India, she would visit flying clubs to watch planes overhead. When Chawla chose to study aeronautical engineering at Punjab Engineering College, she had to override the objections of professors who thought she had no future in the field. She came to the United States to obtain her masters and PhD in aerospace engineering. After completing her doctorate, she successfully applied for a competitive research position at National Aeronautics and Space Administration (NASA).
She left NASA for a few years to build her skills as a research scientist and flight instructor at a private company while working toward her ultimate ambition of going to space. In order to fulfill that ambition, Chawla also had to obtain her U.S. citizenship. Once she became a naturalized citizen, she applied to join the NASA Astronaut Corps and was selected among thousands of applicants. When she served as the mission specialist and the prime robotic arm operator for the successful Space Shuttle Columbia flight STS-87, she became the first woman born in India to enter space.
Tragically, her second trip on the Columbia ended in disaster when the shuttle broke apart while re-entering the atmosphere. Chawla, along with the rest of the crew, was posthumously given the Congressional Space Medal of Honor. In India, she is considered a national hero.
Cecilia Chung

, Activist, 1965 –

 
Cecilia Chung is a longtime advocate on behalf of LGBTQ+ communities, immigrants and people living with HIV/AIDS. Chung came from Hong Kong to the United States as a teenager with her family in 1984. When she came out as a transgender woman in 1992, she paid a heavy price. Her family rejected her and she lost her job. Chung became homeless, turned to sex work, self-medicated with drugs, endured physical and sexual violence, and contracted HIV. After a life-threatening injury landed her in the hospital, her family reconciled with her and her life stabilized. 
Chung began working as an HIV counselor. She also joined the San Francisco's Transgender Discrimination Task Force to document widespread mistreatment of trans people. "We weren't just fighting for our rights, we were fighting for our lives by demanding treatment and more research. We were also demanding to be seen as human beings," Chung says. Her accomplishments include being the "architect of the nation's most ambitious publicly funded program addressing economic justice within the transgender community." She helped found the Trans March, one of the biggest annual transgender events in the world. Chung continues to fight for the rights of trans people and immigrants to this day.
Roy Choi, Chef / TV Star, 1970
After spending his late teens and twenties struggling with depression and addictions to drug, alcohol and gambling, Korean-born Roy Choi credits an episode of the cooking show Emeril with turning his life around. It reinvigorated his love of food and started him on a path that brought him to the forefront of United States food culture.  
After finding his calling as a chef and training at the Culinary Institute of America, Choi worked steadily in kitchens until he hit a rough spot in his career. In 2008, he decided to strike out on his own with a Korean-themed taco food truck. At the time, food trucks got little respect, but the runaway success of his "Kogi" trucks sparked a renaissance of the mobile restaurants. Choi built on his success, opening multiple brick and mortar locations and touring the country. 
As his popularity grew, he brought his food philosophy to television. Chef Show on Netflix celebrates what Choi proudly calls, "food that isn't fancy." Broken Bread on PBS is more focused on food activism, including issues like food waste and food insecurity. He has also promoted the plant-based food movement, innovating with new meat-free dishes at his restaurants. When Choi made the 2016 TIME list of 100 Most Influential People, famed chef and TV host Anthony Bourdain wrote, "Chef, activist, film producer, restaurateur and author of a superb memoir, L.A. Son: My Life, My City, My Food, Roy Choi has put it all on the line to improve the quality of life for people few others seem to care about. It's not a pose, it's not a cause: it's who he is."
Celebrating All AAPI Immigrants
May is Asian American and Pacific Islander Heritage Month (AAPI), but as these stories demonstrate, they are an important presence in American society all year round. To learn more, check out The ILC's lists of the best books and TV shows and films featuring immigrants, which both include more narratives of Asians and Pacific Islanders. Our Immigrant Entrepreneur Hall of Fame features many AAPI immigrants who have created influential organizations, including co-founder of YouTube Steve Chen and co-founder of Pacific Trading International Mei Xu. The book Immigrant Struggles, Immigrant Gifts details the histories and experiences of 11 immigrant groups. You can find the chapter on Chinese American immigration by Dr. Erika Lee as part of a set of free resources from The ILC to counter misinformation and AAPI hate.