The Immigrant Learning Center programs are designed to help immigrants and refugees become economically self-sufficient and socially and civically engaged. Classes are offered free of charge, year-round to students who range from those with little or no formal education to those with advanced degrees in their native languages.
The ILC staff determines the language needs and personal and educational goals of each student when they enroll. Students are placed into programs that best meet their individual needs, and counseling is provided to help them achieve their goals.
In addition to English skills, students gain leadership, problem solving, organizational and job skills. As students gain English proficiency, they achieve greater self-confidence, self-sufficiency, and the ability to contribute and participate in the community and workforce.
The ILC is currently holding most classes in-person while maintaining COVID-19 safety practices for the safety of our students, staff and community.
For information on how to apply for our English Classes, click here.
For information on how to apply for our Citizenship Classes, click here.
English for Speakers of Other Languages (ESOL)
Levels One through Four
Individuals are placed in class levels that best reflect their listening, speaking, reading and writing skills. Classes are intensive with 10 to 15 hours of instruction every week, and instruction is given exclusively in English for a total immersion experience. Lessons are student-centered and designed to help them achieve their individual goals.
Next Steps Class
Learning English is the first step to success in the United States. The Next Steps class helps students with the highest levels of English proficiency prepare for the steps they'll take when they leave The ILC. While they continue to improve their English, they concentrate on next steps such as job training, higher education, professional re-certification and job search skills.
Literacy Program
The ILC's Literacy Program is a groundbreaking model for educating people who may fall through the cracks in conventional ESOL classes. These are students who may have little or no education in their native language or who have additional learning challenges. In the Literacy Program, their individual needs and abilities are matched with smaller class sizes and individualized attention to give them their greatest chance of achieving their goals and giving back to society.
Digital Literacy Program
All students receive regular computer instruction as part of their class curriculum. Classes use portable Chromebook computers as well as desktop PCs provided through a grant from the Adelaide Breed Bayrd Foundation. Students are trained in computer basics, emailing, word processing, navigating the Internet, critical thinking and other digital skills essential for today's economy.
Citizenship Classes
Becoming a U.S. citizen is a major milestone in the life of a new American. The process requires, among other things, learning a lot about U.S. history and civics. The Immigrant Learning Center offers free Citizenship Classes to anyone planning on taking the citizenship exam in the next 12 months. Students learn what to expect during the process of becoming a U.S. citizen, how to pass the exam and conversation skills to help pass the interview.
Family Literacy
Immigrants who have school-age children need help navigating the U.S. education system. The family literacy coordinator conducts workshops on topics such as reading with preschoolers and the expectations the U.S. school system has of parents. Students find just the right book for themselves and their children in our lending library, and children are occasionally invited to visit The Immigrant Learning Center for story hour with their parents.
The ILC's Family Literacy program is generously supported by the Adelaide Breed Bayrd Foundation.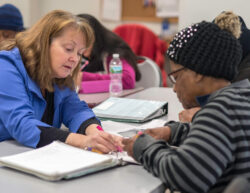 Support Services
The ILC employs a community services advisor and two education and career advisors. All students have access to support, counseling and referrals for continuing education, employment, physical and emotional well-being, and social services.
Photo credit to Don Toothaker Photography.