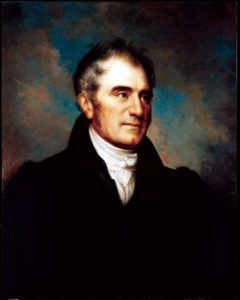 Country of origin: France
Year came to U.S.: 1800
Businesses: DuPont de Nemours (DuPont, 1802)
Headquarters: Wilmington, DE and Midland, MI
2021 revenue: $17.2 billion
U.S. employment: 28,000
Ranked 211 in the 2022 Fortune 500
DuPont was an early "transnational" business relying on knowledge, equipment and capital raised in France.

The company supplied as much as 40 percent of the gunpowder used by the Union Army during the American Civil War.
Eleuthère Irénée (E.I.) du Pont left his home country during the French Revolution and ended up supporting his new homeland in the American Civil War with the company he founded, E. I. du Pont de Nemours and Company.
At age 14, E.I. du Pont wrote a paper on the manufacture of gunpowder and later gained a position at France's central powder agency. There, he studied advanced explosives production techniques. In 1791, as the French Revolution raged, he gave up powder making to assist in his father's small printing and publishing business.
The du Ponts held some strong and unpopular political views, however. This was a liability in revolutionary France. In 1797, a mob ransacked their printing shop and they were imprisoned. Two years later, when du Pont was 28, he and his family escaped and emigrated to the United States.
Within two years of arriving in the U.S. and using equipment and capital raised in France, du Pont formed E. I. du Pont de Nemours and Company. He broke ground on his first powder mill on Delaware's Brandywine River in 1802.
The company grew quickly and by the mid-1800's century became the primary supplier of gunpowder to the U.S. military, producing up to 40 percent of the Union Army's powder in the American Civil War. The Eleutherian Mills site has since been declared a National Historic Landmark and is now a museum.
E.I. du Pont had many interests beyond gunpowder. He enjoyed studying botany, and he became a director of the Farmers Bank of the State of Delaware and the Second Bank of the United States.
The company that bears his name, DuPont, has also expanded beyond gunpowder, transforming itself several times during more than two centuries of operation. In 2017, the company merged with another immigrant-founded powerhouse, Dow Chemical, creating the world's largest chemical company. DowDuPont announced in 2019 that they would be dividing into three companies and DuPont again became an independent company.
Discover more immigrant entrepreneurs who have founded Fortune 500 companies with the research report New American Fortune 500 in 2021.
Updated July 2022